Welcome to TeamOakmont.com, the premier resource for buying and selling real estate and homes for sale in the popular 55+, adult community of Oakmont Village.
Tom Larson and Bosten Larson, make up "the Oakmont Real Estate Team" with decades of real estate expertise and experience, ready to assist you in buying and selling homes in this very popular and energetic, senior, retirement community. Contact us, or register on this web site to have immediate email notification of Oakmont listings, or any Northern California / Bay area location. While our focus is on retirement communities and assisting seniors with finding exceptional homes and communities to enjoy and retire in, we have over 3 decades of real estate experience in all types of real estate and homes for sale, covering Sonoma, Mendocino, Napa, Marin, and Lake Counties.
CLICK HERE to see our Current Quarterly Oakmont Village Newsletter, showing community information and what has recently SOLD in 2018 and 2019.
Download and print your own Newsletter HERE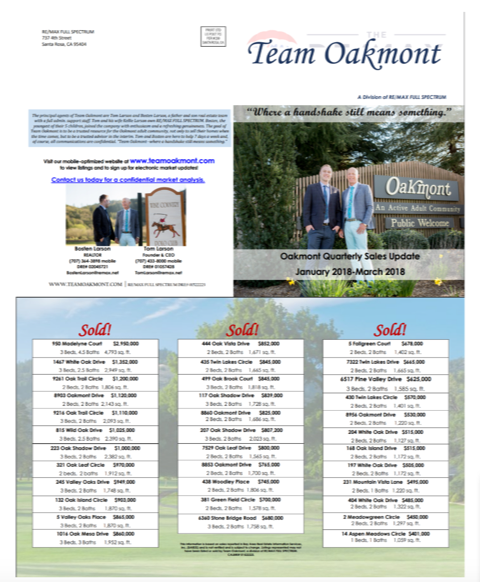 ---
Oakmont Village - The unique environment where making friends is simply a way of life!
Team Oakmont is excited to offer real estate services to Northern California's most exciting adult community, where seniors may go to retire, but keep vibrantly active with vast recreational opportunities, intellectually stimulating classes, clubs and organizations that are immediately available and in close proximity to all Oakmont homes. The Oakmont retirement community is nestled in Santa Rosa, and in the heart of Sonoma wine country, with over 4,500 residents.
Tom and Bosten have lived and represented this area in real estate for decades and are excited to introduce you to this welcoming community and perhaps assist you in finding your dream retirement home in the legendary Valley of the Moon.
---
A little about Team Oakmont~
The principal agents of Team Oakmont are Tom Larson and Bosten Larson, a father and son real estate team with a full support staff. Tom and his wife, Kellie Larson, own RE/MAX FULL SPECTRUM. Bosten, the youngest of their 5 children, joined the company with enthusiasm and a refreshing genuineness. The goal of Team Oakmont is to be a trusted resource for the Oakmont adult community, not only to sell their homes when the time comes, but to be a trusted advisor in the interim. Tom and Bosten are here to help 7 days a week and, of course, all communications are confidential. Read more.....

"Team Oakmont--where a handshake still means something."